Olsson Community Orchard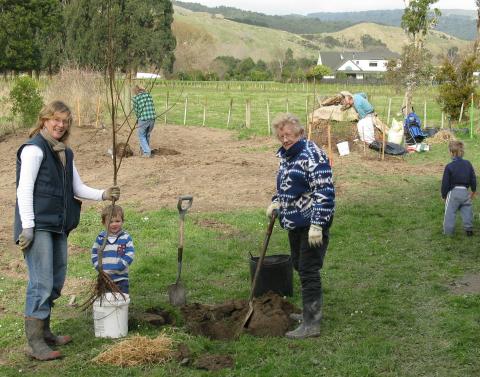 Orchards where the apples grow, gardens where the roses cluster, these are our prayer. The Olsson Orchard is located between McCrae's Bush (off River Rd.) and the stairway up to The Terrace street on the north-eastern edge of Ashhurst. The orchard is named in honour of Noel Olsson, 1941-2012. For over eleven years, Noel was the Chair of the Ashhurst Action Group, which is the "parent" organisation for RECAP. Project purposes
Practical direct education in orchard care through annual pruning and related workshops;
Passive community education by creating ongoing public access to a working orchard;
Free produce according to an "Open Orchard" model to grow community resilience.
Project timeline
April 2012: First public workshop establishes a compost pile.
June 12: Drainage established and a wooden bench installed.
July 2012: Planting workshops held with Ashhurst School and the general community.
August 2012: Ashhurst Cubs and Scouts, supervised by a RECAP volunteer, plant northern rata in McCrae's Bush across the stream from the orchard. Rata sourced thanks to Liz Besley in conjunction with Project Crimson.
November 2012: Citrus trees planted.
March 2013: Ashhurst Cubs and Scouts clean out stream weed. The weeds become a resource for a composting workshop attended by Permaculture Design Course students and the general community.
April 2013: Bulbs planted.
June 2013: Nut trees planted north of the path leading from The Terrace steps to the McCrae's Bush stream bridge.
July 2013: Practical instruction in pruning offered as part of the 2013 RECAP modular Permaculture Design Course.
August 2013: Phoenix Resorts and Farmers Unlimited plant trees to recognise Noel Olsson's years of volunteer service. Five hazelnuts also planted.
December 2013: Bench seat installed under the titoki tree, with material and metal work donated by Ashhurst Engineering and Construction, and design and wood work by Aaron Roberts.
July 2014: Pruning and planting workshop led by volunteer Sarah Frater from Edible Garden provided upkeep for the whole orchard. Additionally, a new Monty's surprise replaced one broken in a wind storm, and two blueberries, two macadamias, and a peach were planted, along with a dwarf pear (Belle de Jumet) destined for espallier.
Fruit tree varieties Apple: Captain Kidd; Dayton; Reinette du Canada; Monty's Surprise Apricot: Fitzroy Fig: Mrs. Williams Grapefruit: Golden Special Lemon: Meyer Nectarine: Kaitaia Peach: Waikanae heritage "River Peach"; Woodville heritage; Blackboy Peacherine: Matakohe Pears: Dwarf Doyenne Du Comice; Dwarf William Bon Chretien; Winter Nelis; Dwarf Belle de Jumet (for espallier) Plum: Billington; Black Doris; Hawera; Luisa Prune: Stanley Nut tree varieties Almond: local self-fertile almond (2) Hazelnut: Barcelona (2); Merv de Bollwillier; Whiteheart (2) Macadamia: Beaumont; GT201 Walnut: No. 1340 Berries Blueberry: Atlantic; Dixi (large grade) Blackberry: Volunteers. We are working to control these around plantings and the stream. Special thanks to volunteer Phil Stevens and his scythe. Harvey Jones is Project Coordinator for the Community Orchard. To participate in any way, contact info@recap.org.nz. We thank PNCC for the use of the land for this project and for the provision of trees; Meridian's Te Apiti Community Fund for funds to purchase the initial trees, to install seats, and for other project costs; Ashhurst Engineering and Construction for bench seating; and Sarah Frater from Edible Garden for volunteer workshop instruction and ongoing advice on how to care for the orchard.