Education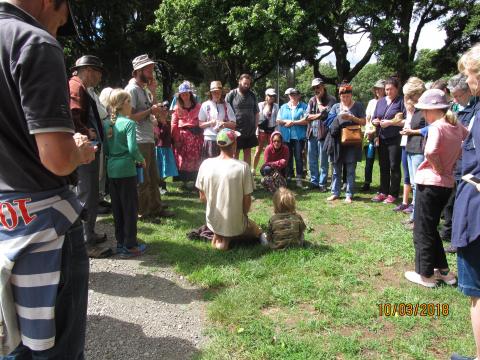 ~ Education sows the seeds of our shared future. ~ RECAP is an umbrella organisation with a guiding emphasis on education for sustainability and community resilience, most specifically on permaculture education. We have two mutually supportive approaches to education. First, we offer presentations and workshops, at times in collaboration with other groups. Second, within the geographic region of Ashhurst and the Pohangina Valley, we offer a range of practical projects that have education and consciousness-raising aims built into the project design.
Although Ashhurst and the Pohangina Valley serve as our home base, local site for educational projects, and formal membership area, people who live elsewhere are quite welcome to come and participate in any of our workshops or projects, and we have at times been able to travel to offer presentations or workshops elsewhere. Anyone anywhere may subscribe to our email mailing list by sending a request to info@recap.org.nz.
This page summarises some of our past and planned workshops and presentations. Our project-based education is discussed elsewhere on the site.
Workshops. RECAP offers a wide range of workshops that offer participants a range of high quality information, practical demonstrations, and direct experience with aspects of permaculture applied both at the home and community level. We aim to run at least one workshop, talk or film a month throughout the year and cover a variety of topics related to living sustainably, eating well, gardening and other permaculture related subjects. Some examples are:
herb spiral 
scything 
hands-on, no-till main crop gardening workshop;
pruning workshops
Hosted talks -Community Supported Agricuture, heritage seeds, food as medicine, herbal medicine, wild food walk, retrofiting
low maintenance, high productivity gardening workshop in collaboration with Nelson Lebo from The Eco School in Wanganui
... and more, including practical learning opportunities associated with our education projects.
Lectures and presentations. RECAP volunteers are often willing to travel to make presentations based on our projects and on the general educational principles those projects demonstrate. We have offered invited presentations on a range of topics to the Whanganui permaculture hui, the Manawatu Harvest Festival (mulitple years), Envirofest, Reel Earth Film Festival, Transition Feilding, Sustainable Rangitikei, Otaki Transition Towns, The Signs of Change National e-Conference on Transitions to Sustainability, and the Australasian Permaculture Conference. These are advertised only on our mailing lists (and, in some cases, only to members when a private venue with limited space is in use). Email info@recap.org.nz with your name and residential address to join our mailing list!