RECAP Rescued Food Distribution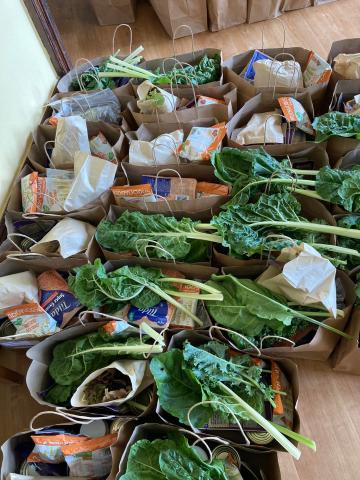 This project began in August of 2021 with the support of Just Zilch: Food Rescue & Free Store. 
The RECAP rescued food distribution happens every Wednesday from 3:30-5pm, from the Ashhurst library back room. You can access this from the community garden, next to the library.
We give out a free bag of kai every week. The contents vary, and we will post roughly what you can expect to receive in the bag HERE each week.
At present anyone can pick up a bag, no questions asked. We do not currently require vaccine passports for this service. To keep everyone safe we ask that you line up keeping a one metre distance between each other & wear a mask for your protection and ours. There is hand sanitiser at the entrance, as well as a QR code for scanning in. You can leave anything you don't want, but you can not swap this for another item. You can exit via the community garden if there are many people at the entrance.
And please, if you are sick stay home. Either get someone to pick up for you or message us and we will assist. Please be kind and respectful to our volunteers and to others picking up bags.
Ngā mihi nui to Just Zilch, the Ashhurst Community Library, Bonnie and Neal Rider, and all of our volunteers and donors who make this happen every week.