Date Confirmed: Compost Workshop & Olsson Orchard Working Party, 21 April at 10:00 a.m.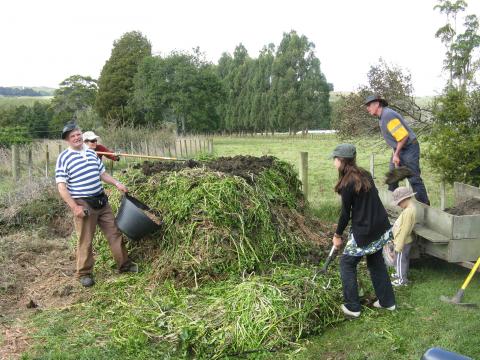 21 April 2012
Ten Participants in RECAP's composting workshop gained practical experience while helping to prepare a compost heap for the Olsson Orchard.
The compost heap, which ultimately reached to head height, was built with repeating layers of the following:
dried bracken fern;
wood chips;
weed harvested from the nearby stream (thereby making some small headway toward conserving the nearby bush remnant);
organic cow manure.
When building a compost pile, getting a fairly even mix of dry and wet ingredients is important. Size matters, too: 1m x 1m x 1m is generally recommended to create sufficient heat.
For those wishing to compost with less space or material, a worm farm (which can be made from used tyres) is a good alternative. The Bokashi method takes the least space of all, and is suitable even for apartments with window gardens.