Ashhurst Community Library Garden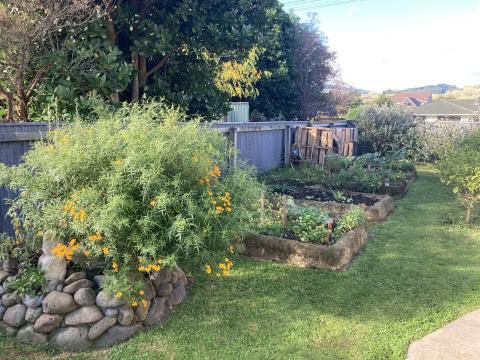 The flourishing Ashhurst Library Community Garden is a permaculture garden created for educational purposes and overseen by RECAP.
The garden has and continues to be developed with slow and small steps, ensuring that we have the volunteers available to maintain it fully. So far, we have planted a variety of fruit trees, a herb garden, a cob garden seat and also a herb spiral as one part of an educational workshop. There are compost bins and a worm farm in place and our first vegetable beds were planted on 22 March, 2014, at a ground-breaking ceremony.
The garden's development is covered by a Memorandum of Understanding between RECAP and PNCC Libraries. To learn more about how to get involved in the garden, contact RECAP Coordinator Helen King, info@recap.org.nz. We appreciate regular volunteers who wish to help with the upkeep.
Select related articles:
About the Ashhurst Community Library Garden
About earth-building at the Ashhurst Community Library Garden