Olsson Orchard Planting a Success!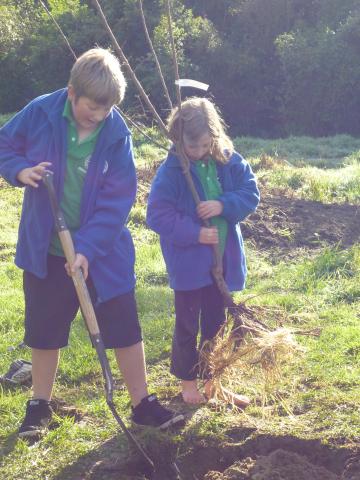 The Olsson Orchard is now planted!
We had a great day Friday, 20 July, planting the first six orchard trees with thirty children from Ashhurst School's Green Team. On Sunday, a mixed group of children and adults came to finish the planting, for a total of seventeen stone and pip fruit trees (apples, pears, plums, peaches, and an apricot, a prune, a peacherine, and a fig). Some citrus trees will be planted in the Spring.
Sarah Frater from Edible Garden was a great instructor and coach as the trees were planted. After the children dug holes for the trees, she taught them to mix soil, compost, sheep manure, and blood and bone to nurture the saplings. We learnt a lot from her explanations of why new trees require pruning and how to do it to give their roots the best chance to establish.
The trees will probably fruit for the first time during school holidays 2013-2014, about a year and a half from now. Fruit will be free to the public, as will annual workshops on tree pruning.
All in all, the weekend was a great start for a project that aims to develop more skills and interest in planting orchards all over orchards, in both public and private spaces, and that also aims to develop a culture of sharing.
Future plans for the area include some conservation efforts. Some kowhai were planted along the bank on Sunday, and the Cubs and Scouts will be planting some Northern rata across the stream from the orchard in the very near future.