The Ashhurst Sharing Shelf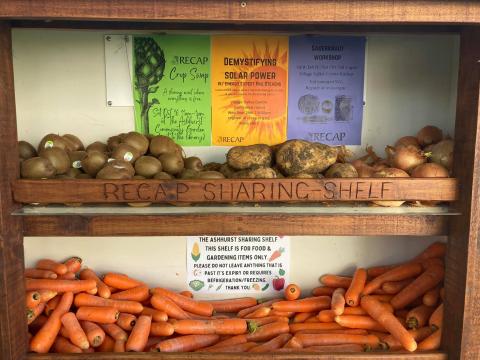 Ashhurst community Library is home to the Ashhurst Sharing shelf for gardeners to share any excess fruit or produce.  This sharing shelf is attached to the garage in the Library garden, just behind the picket fence and sheltered from the weather. This is to the left of the garden gates once you enter.
As part of its ongoing commitment to building resilience and engaging the community, RECAP members have created this facility and will oversee its use.  Please make use of the shelved with these requests in mind:
Share your excess
Reduce waste
Only take what you can use
Clean up rotting produce
Keep it tidy
Any excessive amounts of produce will be shared with the Ashhurst Foodbank.  Waste produce will be fed to the worm farm.  The site will also be available to drop off and share named seedlings for other gardeners.  
Follow The Ashhurst Sharing Shelf on facebook for updates on what's on the shelf