Pruning and Planting Tutorial, Sunday, 27 July -- Will go ahead unless it's pouring rain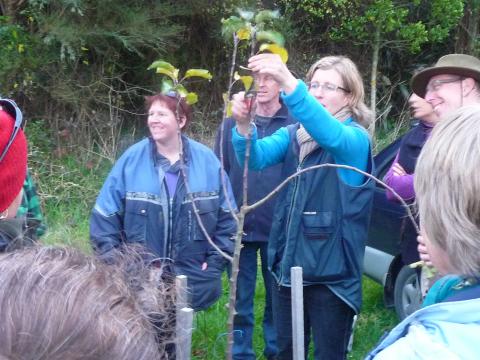 Sarah Frater from Edible Gardens will once again be showing RECAP volunteers how to care for their fruit and nut trees during a pruning and planting tutorial at the Olsson Orchard. This informal but expert instruction will be immediately put into practice as participants tend the trees in the orchard. This year, we're branching out with some new types of plants: come along to learn about planting for eventual espallier, about placement and care of frost-tender nuts, and about working with berry bushes. Free.
When: Sunday, 27 July, at 1:00 p.m.
Where: Olsson Orchard (by McCrae's Bush off River Rd. or down the steep steps from the Terrace in Ashhurst)
Foul weather postponement date: Sunday, 3 August, 1:00 p.m.
Please bring secateurs and/or a spade if you have them. Bring gloves and a water bottle if you want them. Dress for the weather and for getting dirty, with work boots.