Hypertufa recipe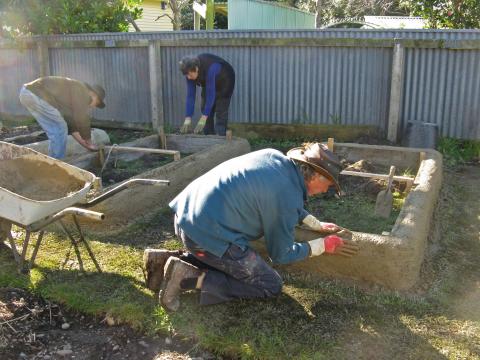 By popular demand, RECAP would like to share our local recipe for hypertufa, which we have used, for example, in the Ashhurst Community Library Garden for the edging around the raised beds. We have also used it in the garden's herb spiral, in a minimalist way to help bind the rocks together without compromising drainage. Ratios can be experimented with a bit depending on purpose: this ratio is recommended for garden edging. Other than the cement for stabilisation, this is a good mixture for those who want a local and eco-friendly construction choice. Limestone can be sourced at garden supply centres such as Macpherson's and at the quarry on the Woodville side of the Gorge for a small payment per trailer load.
Hypertufa recipe
3 parts limestone
1 part sand (I used paving sand for its rough texture)
3/4 part cement
Add water to a stiff mix (more water can always be added later if needed). Mixing can take a while for it to work well. At the Ashhurst Community Library Garden, RECAP used wooden boxing as a mold to make the different beds as uniform as possible. The mixture can be mounded into a kerb wall without the need of boxing, however, just by building it up like mud pies and vibrating the sides with your hands. Too much shaking and it will turn into quicksand. Let it dry off and set a little and then build up another layer for increased height.
It is important to keep the hypertufa from drying off too quickly. Just spray it with a hose every now and then for a few days to make the hypertufa harden off properly. Also a good idea to shelter it from the sun on really hot days. It may be possible for locals and others in the RECAP network to borrow the boxing that RECAP used to create the library garden beds. Please contact us if interested and we'll check if it's still available!
RECAP thanks Aaron Roberts and Harvey Jones for this recipe.