Saturday 2 May Poultry Workshops: The Basics (morning) and Advanced (afternoon) -- Come Join Us -- Spaces Available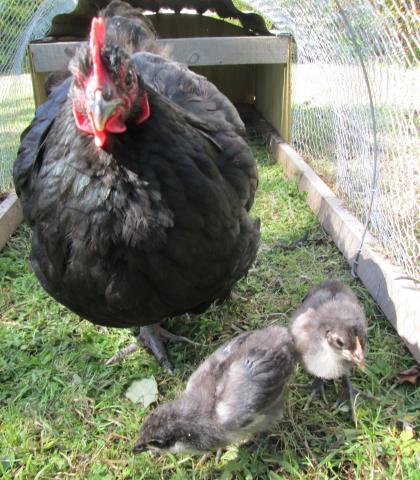 Would you like to raise your own eggs, fertiliser, and entertainment? If so, you may be interested in RECAP's 2 May poultry workshops, held TODAY in Ashhurst.
Both workshops have space available and people who are interested are welcome to just show up without registering..
We'll be collecting fees/koha at the door, or after the fact via Internet banking (leave us your email address). Please remember that no one will be turned away on account of difficulty paying.
The workshops are held at the Village Valley Centre in central Ashhurst, 21 Guildford St. There is an additional parking lot entrance from Cambridge Ave. (Ashhurst's main street).
The workshops' primary emphasis is backyard chook care. Lead tutor Phil Stevens has over forty years experience keeping chickens, ducks, and turkeys in varied settings, with his family keeping additional poultry.
Participants in the Basic workshop, held from 10 a.m. -12 p.m. can expect to learn:
Behaviours and qualities of different breeds of chickens;
How to maintain animal health, clip wings, etc.;
How to design poultry houses and keep a clean environment;
How to build and use chicken tractors of various designs to enhance home gardening;
Palmerston North City by-laws applicable to keeping poultry and other productive animals.
Participants will have an opportunity to handle chooks.
Participants in the Advanced workshop, held from 1:00-4:00 p.m. can expect to learn:
More in-depth information on breed types;
More in-depth information on building houses and tractors, including hands-on examples;
Common diseases to look out for;
How to work with poultry other than chickens (brief);
How to slaughter and dress fowl (at end, optional).

We'd love to have you join us! Fees are subsidised, again thanks to Palmerston North City Council. Cost for basics is $15, and cost for advanced workshop is $30. Participants who are unable to pay the full amount are still welcome. Just register and let us know.

Click here to register for Chook Basics, 10 a.m. - noon.
Click here to register for Advanced Poultry, 1-4 pm.