Permaculture Home and Garden Tour, 11 February 2012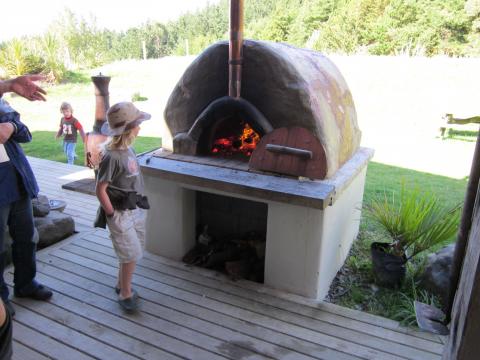 Our February Permaculture Home and Garden Tour was a big success. We regret having had to turn away so many people and we aim to make this a regular event.
This tour allowed 31 participants to visit 5 sites in groups of 10. Participants tried their hand at scything in an orchard that had been designed as a cattle exclosure. The exclosure doubled as a seed bank for red clover and other plants contributing to paddock health, plus comfrey, birdsfoot treefoil and other herbs that nourished the orchard trees. Another tour site demonstrated the construction of hypertuffa from local materials for use as raised garden beds. Participants were treated to demonstrations of composting and worm farms, beekeeping (with fresh honey, yum!), urban chickens, biodiverse gardens, a pizza oven, and an off-grid home. Each tour group spent approximately three hours sharing knowledge with one another and the volunteer hosts at each tour site.
We received lots of positive feedback from participants, including requests for an expanded tour next time:
"Thank you so much to you and all the people whose gardens we went to yesterday. Its amazing what is happening in the community and a great inspiration to those of us trying to do our bit for the environment. I really enjoyed the day."
"Thank you. I'm inspired!"
"I'd just like to say a big thank you to Sharon and the other organisers of the tour on Saturday . I thought it was very well organised and I enjoyed it .. One suggestion for the next one is to allow people slightly wider scope at each garden, rather than restricting them to viewing one aspect of the homeowner's activities. People are usually interested in the whole picture and I noticed at a couple of places that people were wandering off to look at other aspects of the site. However a great initiative and top
marks to all involved....the number of people interested was really impressive."
Due to participant requests we are looking into the possibility of offering more focused workshops between tours, especially into hypertuffa construction.