RECAP Permaculture Garden Tour 2022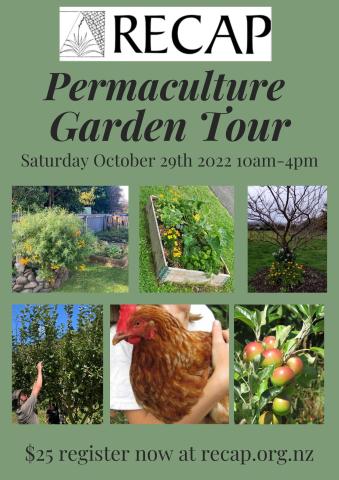 After the success of the 2020 Permaculture Garden Tour, we have another day of inspiration, education and discovery booked in for 2022 on Saturday October 29th 10am-4pm. The cost is $25 per person, with free entry for those under 12. This is a fundraiser for RECAP so we can continue our projects and services and run educational workshops and seminars.
Registrations are essential, and can be made HERE.  All registrations go in the draw to win a $50 Edible Garden voucher!
This is an open day for people to learn more about some of our long term RECAP projects (The Ashhurst Community Garden, Olsson Orchard and McCrae's Bush) and visit a range of private permaculture based properties based on the core principles of Earth Care, People Care and Fair Share. You'll see young gardens at the beginning of their creation, to well established areas of various sizes with experienced caretakers. Enjoy a self guided tour around locations in Ashhurst and the Pohangina valley, while gaining knowledge and insight into permaculture principles. 
Some examples of what you can expect from the tour (with many more to be announced) include: 
- Slow Farm: built and maintained by knowledgeable permaculture practitioners, this is  an expansive, well established series of gardens with a variety of animals and many examples of permaculture methods and applications. This impressive property aims to provide sustenance for family and the community, while also increasing the land's ability to hold vital carbon, water, and a greater diversity of living things. 
- An abundant 30 year old ⅕ acre section with a combination of 15 fruit and nut trees, a vegetable garden, flowers, native areas, composting, harvested rainwater and targeted irrigation systems.
- The Olsson Community Orchard: conceived in 2012, the orchard is named in honour of Noel Olsson (1941-2012) the Chair of Ashhurst Action Group, the "parent" organisation for RECAP. 40 varieties of fruit and nut trees now reside in the orchard, as well as examples of guilds, composting, pruning and good orchard practice. Not only does this orchard provide food for its community, it also functions as a teaching space with two pruning workshops held here each year.
During the tour we have scheduled some short, practical workshops for participants to take away some extra learning covering hypertufa construction, biochar demonstration, effective composting and more TBC. These will be throughout the day ensuring those who wish to attend them all will have time to do so. There will be a variety of plants and local goods available to purchase at a small market, and we encourage you to visit our local businesses for sustenance as it will be a full and busy day!
Some feedback from the 2020 Permaculture Garden Tour:
'It was great to see so many different ideas, garden owners were all lovely to talk to and sharing their philosophies. Good to see a range of gardens from almost beginner/basic to well established.'
'I thought it was a really fabulous day and well organised. We loved that we could walk to the majority of the ones in the village and I love looking at what other people are doing in their gardens, how they have set things up, what plants they are growing. Was a very enjoyable day.'
'It was great to come across from Palmerston North for the day. I rarely spend much time in Ashhurst and it was lovely to get to know the area better and see the beautiful, well established gardens around the area. They were all beautiful and unique and I loved seeing every one.'
Please keep an eye on our website and social media for updates as they are confirmed, or contact info@recap.org.nz to request to be added to our mailing list.
Permaculture principles:
Observe and interact
Catch and store energy
Obtain a yield
Apply self-regulation & accept feedback
Use & value renewable resources & services
Produce no waste
Design from patterns to details
Integrate rather than segregate
Use small and slow solutions
Use and value diversity
Use edges & value the marginal
Creatively use and respond to change