Berm gardening/beginner's workshop May 2022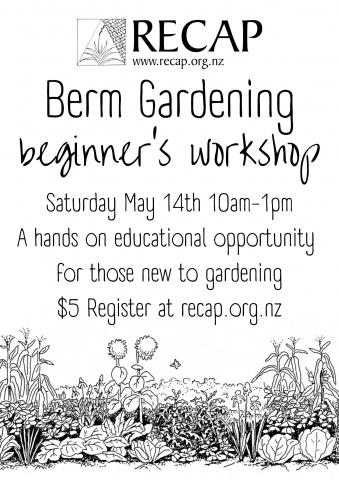 We ran this workshop in the spring of 2021 and we're back at the berm for a hands-on workshop where you will learn how to create raised beds & prepare existing beds for the winter growing season.
We have had a high volume of requests for beginner gardening workshops, so if you've wanted to grow your own but don't know how to get started this one's for you. 
Facilitated by Beth Lew of Growing Gardens and Communities - Manawatū & Suzanne Chelius from RECAP/PNCC's Sustainable Living Programme. This is one for those just starting out, with some info on best practice on berm gardening (now allowed without permission from the PNCC). 
We'll be covering: general site analysis, the benefits of a no-dig garden bed/raised bed, soil health/building soil, seasonal planting/companion planting and more as well as providing some easy growing seeds to take home to start your own māra kai (food garden).  
There is a fee of $5 for this workshop.
Please register HERE