Cyanotype kid's workshop w/ Sunny Day Cyanotype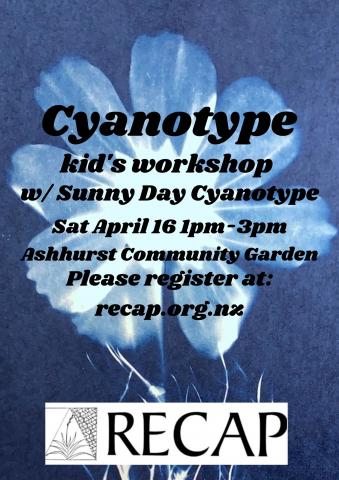 This workshop is now full. To be put on the waitlist, please contact: chris@recap.org.nz
We have a one off workshop for tamariki in the upcoming school holidays: Cyanotype kid's workshop w/ Sunny Day Cyanotype
Marolyn Krasner of Sunny Day Cyanotype (facebook: sunnydaycyanotype) will be leading a kid's workshop on Saturday April 16th from 1pm-3pm in the Ashhurst Community Garden (next to the library). 
Cyanotype is a photographic printing process that produces a cyan-blue print. The cyanotype process uses a mixture of compounds, which when exposed to UV light and washed in water oxidises to create blue images. The technique was invented in 1841 and popularised by photographer/botanist Anna Atkins. Her book, published in October 1843 is considered the first photographic book.
We will be gathering in the Community Garden to collect natural materials & utilise the sun to create beautiful botanical prints to take home. 
10 & over can attend without a guardian, but we ask that 9 & under have a guardian present. We can provide hot drinks in the library back room. Masks are encouraged, but not mandatory.  
There are ten places available, and it is $20 per child. If this fee is a barrier to attendance, please contact info@recap.org.nz to discuss.