NEW DATE: Permaculture workshop #2: Using & modifying microclimates for effective & diverse food gardening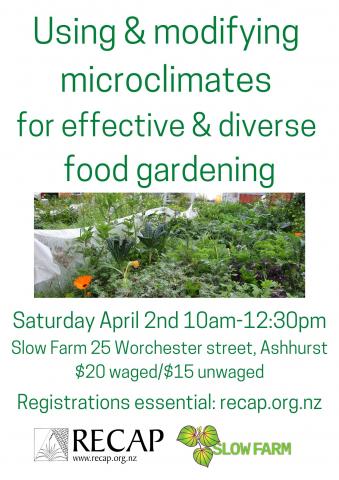 This workshop will introduce participants to a range of readily accessible and low-cost means to design multiple microclimates into a home garden and to use them effectively.
Working effectively with microclimates can extend the growing season and diversify the range of crops that can be grown successfully. While gardeners cannot personally control the climate and weather, they can have an effect on: 
soil quality, including soil moisture
wind flow and shelter
patterns of light and shade
soil and air temperature
Attendance at this workshop does not require a vaccine passport. Please note that other public health measures such as wearing a mask or showing a mask exemption, and keeping a physical distance may be required. Please do not register if you are not willing to follow these.
Please register: HERE
To stay informed on these workshops, we recommend you check our website regularly (recap.org.nz) sign up to our newsletter (email info@recap.org.nz to request) or follow us on facebook (facebook/ResilienceAshhurstPohangina) as updates will be posted there.