Permaculture workshop #1: Observing & understanding your land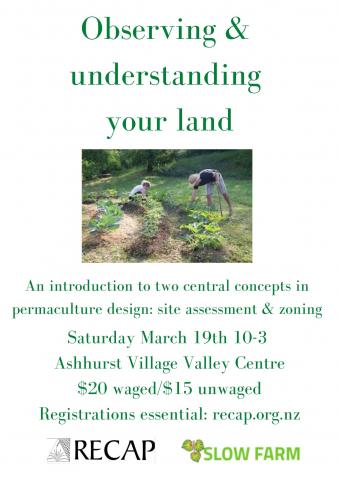 RECAP and Slow Farm are very pleased to announce that we will be providing standalone Permaculture Workshops in 2022.
The first standalone permaculture workshop: Observing and Understanding Your Land will be held on Saturday March 19th 10-3pm at the Ashhurst Village Valley Center centennial room.
This workshop is designed for new home-owners (and land-owners)--or for those who want a new look at their home before planting the next tree or before installing a garden shed. The workshop will introduce two central concepts in permaculture design: Landscape and site assessment & Zoning as a design approach.
You will learn a system for observing how light, wind, water, and animals (including people) flow through a landscape and discuss how these flows interact with more fixed features, such as landforms, buildings, trees, and shrubs. 'Zoning" is a permaculture design tool that is often considered the first step to planning landscape changes that work with nature in ways that return benefits for people.
Registrations are essential for this, and can be made HERE
Attendance at this workshop DOES NOT require a vaccine passport. Please note that other public health measures such as scanning or signing in, wearing a mask or showing a mask exemption, and keeping a physical distance between yourself and others as necessary will be required. Please do not register if you are not willing to follow these.
To stay informed on these workshops, we recommend you check this website regularly, sign up to our newsletter (email info@recap.org.nz to request) or follow us on facebook (facebook/ResilienceAshhurstPohangina) as updates will be posted there.
To learn more about Slow Farm: slowfarm.co.nz