Ashhurst Emergency Preparedness - POSTPONED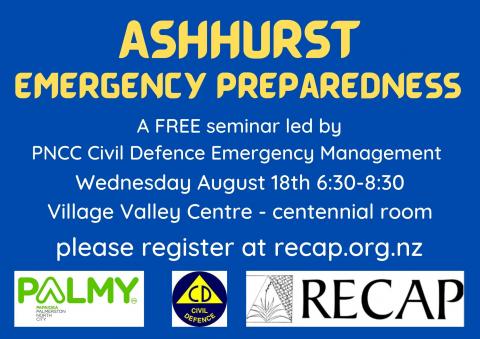 With the country in alert level 4 from 11:59pm Tuesday 17th, the Ashhurst Emergency Preparedness seminar on Wednesday August 18th has been postponed.
We will be in touch with another date when we are able to reschedule. 
Stay safe and well.
When: Wednesday August 18th 2021 6:30-8:30 Where: Village Valley Centre - centennial room Cost: FREE
This is a civil defense preparation course led by the PNCC emergency management team. Tailored to our area to help whānau, individuals & businesses be best prepared for a range of location specific scenarios. 
Have you made a plan for how you will manage in an emergency? Do you have your emergency kit ready? Where will you go in Ashhurst? What if you are cut off from Palmerston North? How will your response change during the day compared to at night? The PNCC emergency managment office wants to assist us with our community emergency response plan.
This plan will help guide residents on what to do in a range of situations and how best we can 'Get Thru'.
All ages are welcome, with a quick intermission midway. Supper will be provided afterwards with time to talk with staff.
Please make sure you register HERE.