York & Custom street clean up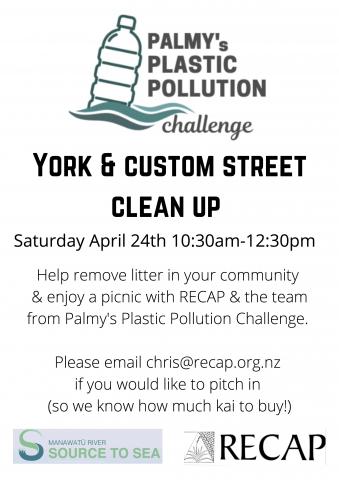 York & Custom street clean up

Help remove litter in your community & enjoy a picnic with RECAP & the team from Palmy's Plastic Pollution Challenge.
Join RECAP & PPPC for a clean up along York & Custom streets in Ashhurst, followed by a pizza lunch (provided by PPPC)

When: Saturday April 24th 10:30am-⁠⁠⁠⁠⁠12:30pm
Where: York street & Custom street (meet at the Domain carpark at 10 Cambridge avenue).

Children under 15 must be accompanied by a parent or caregiver.

Please email chris@recap.org.nz or register here if you would like to pitch in, so we have an idea of numbers.
For more info on the Palmy Plastic Pollution Challenge: enm.org.nz/about/palmy-plastic-challenge