Ashhurst's Plastic Pollution Challenge. Saturday 19th October.
Submitted by
helen
on 2 October 2019 - 4:18pm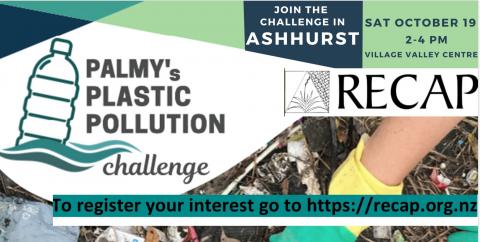 Palmy' Plastic Pollution Challenge (PPPC) was piloted over the last year collecting and analysing litter from 40 waterway sites around the city to establish the extent of the problem. Results were astonishing and disturbing, but a catalyst for the beginning of some positive change.
Click here to register for this event

Dr Heike Schiele, PPPc Lead for Manawatu River Source to Sea and Co-chairperson of Environment Network Manawatu will share findings, solutions, and also help us explore how and if Ashhurst wants to discover the extent of the problem in its own backyard and work towards positive behaviour changes that will make our village and its waterways healthier for future generations.

When: Saturday 19th October October 2-4pm.
Where: Ashhurst Village Valley Centre, 21 Guildford Street, Ashhurst.
Cost: Free.