Are you Emergency Ready Ashhurst?
Submitted by
helen
on 19 June 2019 - 10:01am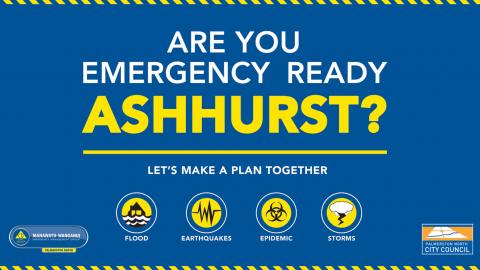 When: Monday 22nd July 2019, 7.30-9.30pm
Where: Ashhurst Village Valley Centre, centennial room.
Have you ever wondered how you will manage in a Civil Defence emergency? Do you have your emergency kit ready? Where would you go in Ashhurst? What if you are cut off from Palmerston North? How would your response change during the day compared to at night? These questions will all form part of a workshop Palmerston North City Council is hosting in Ashhurst in July. The Council wants to continue working with Ashhurst residents and businesses on the community emergency response plan. The plan would help guide residents on what to do in a range of scenarios and how best they can 'Get Thru'.

The Council's Civil Defence Emergency Management staff will lead the night's events and get you to start thinking about how best you can get your family prepared.
  
All ages welcome (we had a specific question if kids could come) Supper afterwards with time to talk with staff