New guy in the garden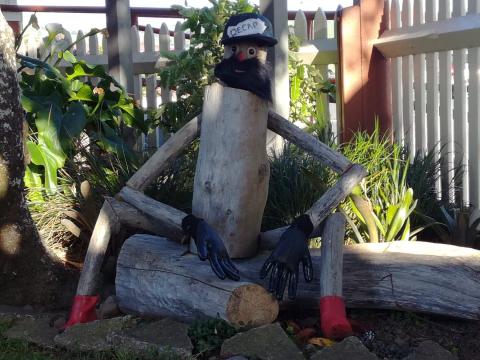 If you have been into the community garden lately you may have met our new garden guardian, or perhaps mascot?   He has been lovingly crafted by our wonderful volunteer gardeners Ian and Rik who work down there on Fridays.   Using driftwood and some Kiwi ingenuity they have created a wonderful photo opportunity, while we are pleased to have some art work like this to enjoy.
You will also spot a little owl hanging out in the garden too.   Both these new arrivals are as yet unnamed, so feel free to help us name them!
The latest project has been to have some sort of cover for our cob seating. After much discussion we have now got two espaliered pear trees growing into an arch over the seat, with a trellis behind that currently has peas growing up it - snap peas which be a great treat very soon hopefully.
The other fruit trees are covered in fruit, garden beds full and flowers bursting with spring colour.   
A huge thank you to our garden volunteers, who provide so much time and give many, many people so much to enjoy in Ashhurst.