Book launch and fruit tree pruning workshop
Submitted by
RECAP Admin
on 26 June 2018 - 2:07pm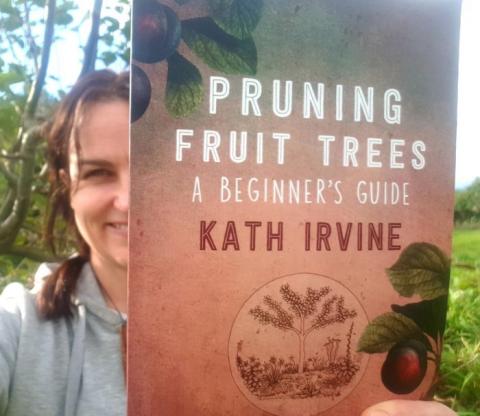 We are excited to announce that we will be launching Kath Irvine's new book - "Pruning fruit trees - a beginners guide" at our community orchard on Sunday July 15th. Not only this, but then Kath, joined by Sarah Frater from Edible garden https://ediblegarden.co.nz/ will be co-tutoring the pruning workshop at the orchard.
Everyone is welcome to attend the book launch. This will be held at 12.00, Sunday July 15th at Olsson Orchard, River Road Ashhurst.   Please bring a stool to perch on, a cup if you want a hot drink and some cash so you can buy Kath's book and get it signed by her.   Gumboots and warm clothing are recommended. Nibbles will be served.
Following the launch, at 1pm, Kath and Sarah will tutor the workshop for those who have registered.   Registration is just $10 per person and can be done here .
Wet weather: In the unlikely event of rain (!) the whole event will be held at the Methodist Church Hall on Bamfield St in Ashhurst.  The book launch at 12.00 (no stool or cup needed) and then an informative talk by Kath about pruning which will be in place of the hands-on workshop, still at 1.00pm.
Please register for the pruning if you are interested - by clicking here
Kath has a wonderful place in Levin and she lives, breathes and teaches gardening, permaculture and everything related.  For more information on Kath Irvine and her gorgeous garden please check her website -edible backyard
You can also hear her in a recent interview with Kim Hill here