Volunteer Recognition Event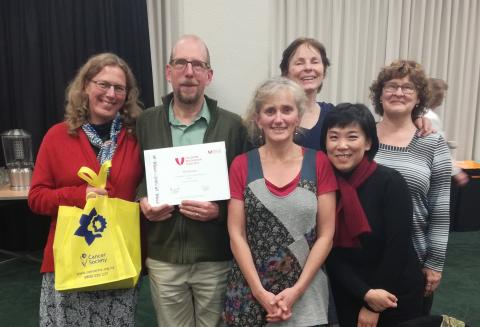 On Friday 15th of  June RECAP was well represented at the wonderful Volunteer Recognition Awards held in Palmerston North at the Conference and Function Centre. RECAP had nominated Phil Stevens for an award as part of years of volunteering, not just for RECAP but in the wider community and also at national level with his work for Living Economies.   The event was hosted by the Volunteer Resource Centre in Palmerston North and there were a large number of people from all over the region and from many different sectors in society.
Phil Stevens has been on the RECAP executive board for many years and also volunteering as a tutor, working in the orchard, with IT, pruning, planting trees, the community garden and leading the work on our cob seating.
Phil also volunteers outside of RECAP. For years he regularly helped check the stoat traps in the Manawatu Gorge. He's currently Treasurer of LEAP -- the Society for the Local Economy of Ashhurst and Pohangina Inc. He also organises musicians for LEAP's monthly Ashhurst Community Market. In 2010, he joined the board of the national charity Living Economies Educational Trust, becoming Chairperson the following year. This role involves traveling throughout New Zealand to speak, facilitate, and co-organise conferences. This year he has been meeting with staff from the Ministry of Social Development about an initiative to support those who wish to address debt and poverty through mutual reliance in small social networks.
Outside of his formal volunteering, Phil is always willing to support a friend in the hospital, sort out someone's computer, or share his skills with tree pruning, with particular readiness to help those who are socially vulnerable. He's known both for the intelligence he brings to his volunteering, and for the practical and consistent expression of his compassion.
A huge thank you to Phil from all of us and I am sure from many, many others who has been lucky enough to benefit from his volunteering.