Reel Earth film- Living The Change. May 3rd 2018
Submitted by
RECAP Admin
on 12 April 2018 - 3:34pm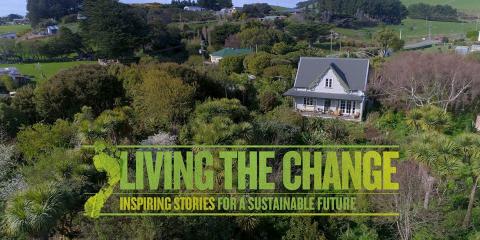 We are pleased to be presenting "Living The Change" as part of the Reel Earth Film Festival this year.
"Living The Change: Inspiring Stories for a Sustainable Future" explores solutions to the global crises we face today – solutions any one of us can be part of – through the inspiring stories of people pioneering change in their own lives and in their communities in order to live in a sustainable and regenerative way.
Directors Jordan Osmond and Antoinette Wilson have brought together stories from their travels around New Zealand, along with interviews with experts able to explain how we come to be where we are today. From forest gardens to composting toilets, community supported agriculture to timebanking, Living the Change offers ways we can rethink our approach to how we live.
Local Permaculturists are featured in this film and will be speaking and answering questions afterwards!
Thursday May 3rd, 7.00pm. St Mary Magdalene Church Hall, Cambridge Ave, Ashhurst
This film is a free event but please register on EventFinda here