Zero waste workshop with "The Rubbish Trip" folk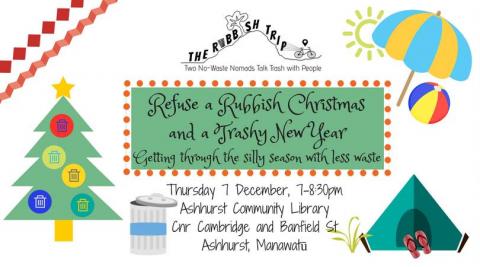 What:
Join Hannah and Liam, the two No-waste Nomads behind The Rubbish Trip, for an interactive evening workshop about how to get through the silly season with less waste.
Christmas, New Year and the holiday period can be a stressful time for us and for the planet as we try to get on top of gifts, family dinners and trips away. But it doesn't need to be this way!
Having a less wasteful holiday season is not only more environmentally friendly, it can also take the pressure off by making things simpler, more enjoyable and more affordable. If this sounds appealing, then come along to this workshop to get a bit of a taste for what zero waste living involves (based on Hannah and Liam's own experience of living without a bin since the beginning of 2015), and how you can get creative to reduce your waste this silly season with: - alternative gift ideas - Christmas dinner planning - tips for camping, getting out on the road, or visiting the bach, with less waste. This event is free and everyone is welcome. Zero waste and locally-sourced tea, coffee and Christmas kai will be available, for inspiration, sharing and general cheer.
Where:  Ashhurst Community Library, cnr Cambridge Ave and Bamfield St, Ashhurst
When:  Thursday December7th @ 7pm
Who: All are welcome, this a free event hosted by The Rubbish Trip, RECAP and supported by Ashhurst Library
How much:  This a free event
Please check out "The Rubbish Trip" on facebook   here
Questions?  Just email me  - info@recap.org.nz
Hope you can make it.