Spring in the community garden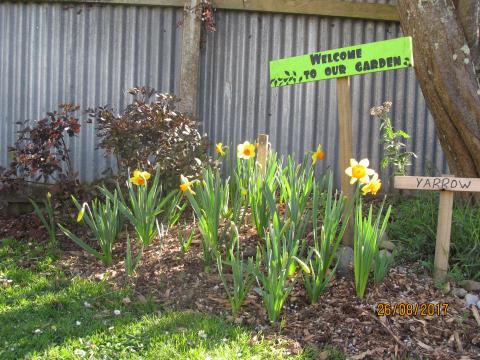 Spring has arrived and how wonderful to see the flowers blossoming.  We have many visitors to the garden and love to see locals taking ownership of the gorgeous space that has been created there. There are volunteer gardeners down there on Fridays 10am-12 if you want to have a tour, help out, or chat about what we are up to.  
The vege beds are getting planted up, there are new fruit trees, lots of name signs and some new information signs coming soon!  The garden is a teaching garden and used as such for workshops.  You are welcome to pick flowers or eat herbs or veges that are ready to harvest.
The cob seating needs a bit more work and is going to get a final coat of paint to finish it now the weather is warming up.  
A big thanks to Ian, Rik and Veronica who spend hours gardening each week to keep it all looking so fabulous.