Designing food gardens - A permaculture design module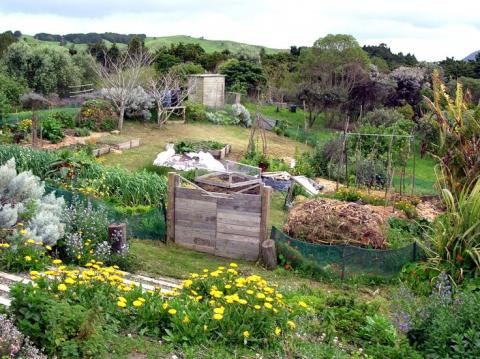 Sorry, but this workshop is now full. We were overwhelmed with the quick and enthusiastic response.  
Please stay in touch via Facebook and on here for future events.
We are offering one of the most popular of modules of the permaculture design course as a one day workshop, open to everyone.
You can register HERE
 Those who would like a taste of permaculture are invited to register, on a one-off basis for this module, one of  twelve modules in the permaculture design course: designing food gardens. This day-long workshop takes a holistic approach to food garden design, offering participants a well-integrated overview of the topic and a general framework for considering their own garden plans. Workshop topics include:
permaculture ethics, principles, zones, and design processes*;

working with water, micro-climates, sunlight, and soils in the garden*;

designs for gardens, pathways, and garden beds;

perennial and annual crops;

seed-saving and propagation;

planting plans, rotation plans, cover crops, inter-cropping, and companion planting;

weeds, pests, and diseases;

harvesting; and

gardening in community.
* Please note: These topics are addressed more fully in other modules of the full twelve-day permaculture course; in this workshop, they will be discussed in abbreviated form, focusing only on their applications to food gardening.
 The day will include a shared, bring-a-plate lunch; a practical, get-your-hands-dirty activity; and a mix of classroom activities and mini-lectures. More information will be provided upon registration.
Saturday August 26
9am-5pm
Village Valley Centre, Guildford St, Ashhurst.
$40pp, advance payment and registration essential as places are limited.
Please register HERE