12 March, 11-1: Live lime-plastering demonstration for Ashhurst Community Library cob bench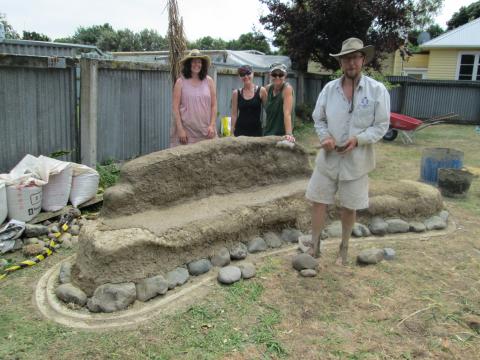 Thanks to the participation of over forty members of the Ashhurst, Pohangina, Palmerston North, Feilding, and Whanganui communities, the earth-bench at the Ashhurst Community Library has taken shape, with the cob construction now complete.
The next step in the construction involves applying two coats of a lime plaster. The first coat will be applied by volunteers during the Ashhurst Community Market, which will be held on the library grounds and on the Ashhurst Village Green on Saturday, 12 March. While the market begins at 10:00, we anticipate the plastering will start closer to 11:00. For health and safety reasons, only adult (or older youth) volunteers who have pre-registered their interest and who have met certain requirements may participate in this stage of the project. We ask everyone else to stay on the other side of the barrier tape as the plaster is highly caustic and may splash.
However, all are welcome to come look from a distance, and we will have someone on hand to talk about the project and all stages of the bench construction.
Special thanks are due to Phil Stevens for his research, process testing, leadership, and many solo evenings at the library; thanks are also due to the indefatigable team of Harvey Jones, Aaron Roberts, and Ian Stark; and to Toni O'Brien both for her practical work and for her substantial contributions to ensuring the seat shape and location meets aesthetic design standards and fits within the plan of the garden overall. Thanks also to Higgins Contracting and a private donor for fill materials.
To volunteer for lime plastering, please contact Phil Stevens at least a few days in advance of the 12th, using the RECAP email address, info@recap.org.nz. We would truly appreciate a bit of help, but no drop-in volunteers will be taken on the day.