Earth-building opportunity -- final chance at cob this Saturday, 20 Feb., 10 am at Ashhurst Community Library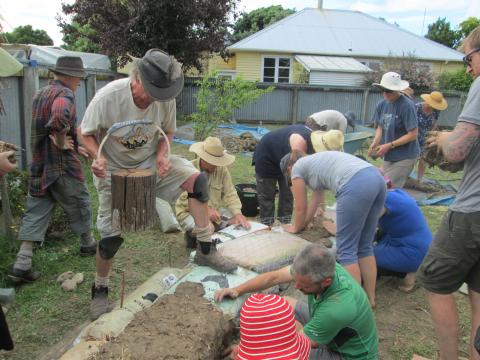 UPDATE Thanks to the 19 community volunteers who came along on Waitangi Day -- we just about finished with the cob layer. There's just a wee bit more to get done this Saturday, 20 February, starting at 10:00 a.m. Come on down and join Phil Stevens & the team for a final chance (this year) at hands-on learning about cob. For more info, contact info@recap.org.nz.
Please note we don't anticipate organising shuttle pick-ups this time. Otherwise, read on for a little bit more about what to expect.
Previous story
---------------------------
Come join RECAP volunteers this upcoming Saturday, Waitangi Day, 6 February, with a staggered start from 9:30 to 10:00 a.m. and continuing throughout the morning at the Ashhurst Community Library Garden. RECAP is grateful to carver Craig Kawana, Rangitaane, for having joined RECAP volunteers and leading a karakia before we laid the foundation for the seat.
There's plenty of fun, work, and learning for all!
We will be working with earth bags and cob (soil, clay, and straw mix) to continue construction of some permanent seating for the library garden. The project has a good foundation thanks to some core RECAP volunteers. The seating then moved forward with a big leap thanks to the efforts of our permaculture design course students, as one component of a course module on buildings and structures. We had a great time, and it was definitely a case of many hands (and feet) make light work.
No specialist skills are required. Volunteers are welcome to just show up. We'll make sure people have a chance to understand what we're doing and why so that it's a good learning experience. Come dressed for the weather (sun screen, hat, water bottle, etc.) and dressed to get dirty. Some jobs require sturdy work boots; others are for people happy to get their bare feet dirty. We have some work gloves but additional gloves may be needed. Jobs have varying requirements for strength and fitness. Those unable to participate in the work are welcome to come watch and learn.
There will be additional stages of the project, with dates for plastering announced in the near future.
Based on the forecast available on Friday, we have decided to confirm. We are able to work in occasional rains and /or light rains as well as in fine weather..
I (Sharon) have arranged to pick up someone at the Ashhurst Mobil Station who is arriving from Palmerston North on the Te Apiti Shuttle with a scheduled 9:15 arrival. I can bring other shuttle passengers; if possible, please contact me in advance Sharon (info@recap.org.nz) by Friday 5 February at 8:00 p.m. to arrange a pick-up. RECAP will pay return shuttle fares, to support eco-volunteering, and to support sustainable transport.