Take your sustainability education even further -- and bring it home with you!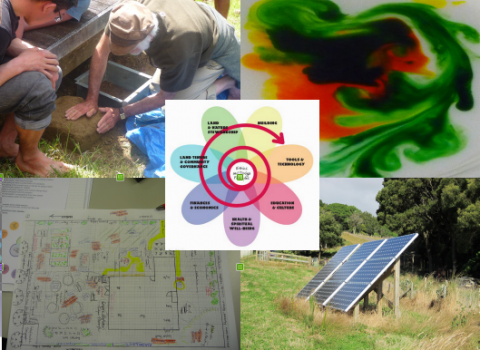 RECAP will be offering partial scholarships from time to time to support qualified persons who want to develop practical skills (1) that are in keeping with RECAP purposes and (2) that can be shared with our local community through practical work, and/or with our regional community through education.
Why are we doing this?
RECAP's dream is that we'll keep building our community's sustainability and capacity for local self-reliance. To that end, we've been bringing in external teachers to share their knowledge with local and regional students, but we also want to develop our home-grown education talent. We know that there are smart builders, growers, teachers, and tradespersons of all sorts who have the ability to learn more about sustainable methods and to share what they learn with the RECAP community in lectures, workshops and/or other projects. If you'd like to be involved in RECAP and you have good skills to share, we'd love to be your partner in helping you develop those skills even further.
So call it a scholarship, or call it a teaching exchange, but if you have a dream we can help with, give us a call.
As of March 2016, we are particularly keen in developing local expertise in sustainable energy and technology. We have recently supported someone developing their earth building skills, and we are unlikely to do so again in the near future.
The details
Persons who are interested in a scholarship should first contact the RECAP Coordinator, Sharon Stevens, info@recap.org.nz, to express their interest. Scholarships will be considered for applicants who can demonstrate:
good fit between what they want to learn and RECAP's charitable purposes (see http://recap.org.nz/about);
an appropriate learning opportunity;
sufficient prior knowledge, qualifications, and/or experience to learn what is being taught at a high level; and
the ability to teach what they learn at one or more RECAP events (as negotiated) that are open to the general public in Ashhurst or the Pohangina Valley.
Scholarships will normally be for a maximum of $600 dollars and for no more than the costs directly associated with the activity. Any additional costs will be the applicant's responsibility. Scholarship recipients will be asked to negotiate a teaching and/or practical project exchange where they share their learning through RECAP events such as lectures, workshops, and/or facilitated projects, with the understanding that recipients will generally be expected to pay back the scholarship if circumstances change and they are unable to deliver.
There is a limit to available scholarships, and the RECAP board's decisions about any particular application will be final. The board adheres to a conflict of interest policy. At its discretion, the board may choose not to award any scholarships regardless of the suitability of applicants. There is no closing date for applications. There is no residency requirement for scholarships, but the board will be considering the likelihood that the applicant will contribute to the capacity of our community and/or region over the long-term.