Fermented Foods and Sourdough Workshops, 18 & 19 August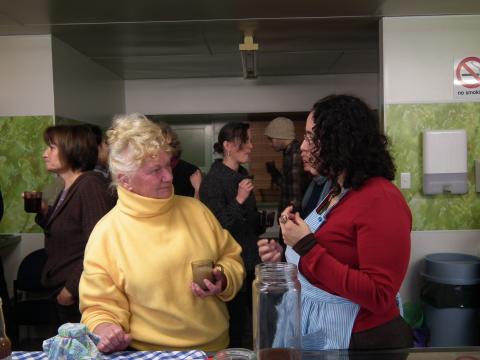 In August 2012, RECAP teamed up with food coach Ruth Cohen from Thrive to offer two sold-out workshops.
Participants have promised to share their food cultures, so let us know if you're looking for some!
WORKSHOP DESCRIPTION: Fermented Foods -- Kefir, Kombucha, and fermented vegetables
Learn the art of fermentation: how microorganism cultures improve the bio-availability of nutrients and the digestibility of foods. There will be a demonstration of how to take care of Kefir (an ancient milk culture), and how to make immune boosting Kombucha tea. We will also ferment vegetables with lactic acid. This is a great way to preserve garden produce without the need for heating, keeping the food raw and nutritious.
WORKSHOP DESCRIPTION: Sourdough bread
Those who also attend the Saturday evening workshop will start the bread sponge in the evening so that the grain can ferment overnight for baking on Sunday.
"I am looking forward to seeding your community with cultures that can be a community resource for years to come. The techniques we will learn are simple and require no special equipment other than the average kitchen. Starter cultures of kefir, kombucha, and sourdough will be available for those who want to take some home." ― Thrive Coach Ruth Cohen.
"I thought the workshop was great. Thanks for the invite. Kombucha is growing as we speak." -- Course participant William Van Ausdal.
We thank Palmerston North City Environmental Trust for supporting this event.